Species Profile
Prairie Lupine
Scientific Name: Lupinus lepidus
Other/Previous Names: Lupinus lepidus var. lepidus
Taxonomy Group: Vascular Plants
Range: British Columbia
Last COSEWIC Assessment: April 2009
Last COSEWIC Designation: Endangered
SARA Status: Schedule 1, Endangered
---
Quick Links: | Taxonomy | Photo | Description | Distribution and Population | Habitat | Biology | Threats | Protection | Recovery Initiatives | Recovery Team | National Recovery Program | Documents
Image of Prairie Lupine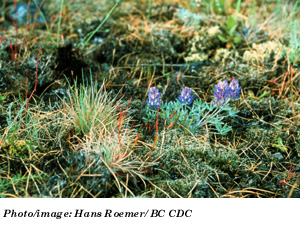 Taxonomy
Most taxonomists recognize only a single variety of Prairie Lupine in Canada.
Description
Prairie Lupine is a perennial that grows 20 to 45 cm tall. It forms a tuft consisting of several stems arising from a thick stem base. Its leaves are composed of five to nine small segments, or leaflets, arranged like the fingers of an open hand. Most of the leaves grow at the base of the plant, with a few alternate leaves found along the stem. The leaves and stems are covered with silky hairs, giving the plants a distinctive appearance. The pea-like flowers are arranged in a compact cluster at the end of each stem; they range in colour from blue to white to purple. The seed pods are 1 to 3 cm long and are covered with small hairs. Each seed pod contains two to four brown seeds. The species can be distinguished from other lupines by its densely hairy stems and leaves and the woody stem base.
Distribution and Population
Prairie Lupine occurs from southwestern British Columbia to Washington and Oregon, west of the Cascade Mountains. In Canada, the species is restricted to southeastern Vancouver Island. The species is known historically from nine locations in British Columbia, all within a triangle formed by Somenos Lake just north of Duncan, south to Cattle Point in Victoria, and west to Mount Braden in Langford. Although relatively common in the United States, this plant is rare in Canada. In 2009, only two of the nine historic populations in Canada could be confirmed as extant. One of the two populations is on Mount Braden and Mount MacDonald, in Langford. The other was found in 2007 at a single site on Mount Helmcken. These small, fragmented populations consisted of fewer than 250 plants in total. A seed bank may persist at a third site on Mount Wells, where the population has not been observed since 2003. During surveys in 2007, no mature plants, i.e., those large enough to flower, were found at the extant sites, but over 2200 seedlings were recorded. In 2008 and early 2009, a small number of mature individuals were reported from the Mount MacDonald–Mount Braden area. The populations therefore appear to risk a complete die-off.
Habitat
Prairie Lupine grows in dry, rocky habitats, from grassy meadows to steep, rocky slopes. In Canada, it is restricted to rock outcrops on coastal plains on southeastern Vancouver Island. The two extant populations occur either near or on the top of wind-swept hilltops on gentle grades or on ledges on steep slopes. The soil above the bedrock is poor, thin and well-drained. The associated vegetation consists of a sparse cover of grasses and grass-like plants.
Biology
Little information is available about the biology of Prairie Lupine, but it appears that this perennial does not flower until its second year of growth. Flowers are hermaphroditic, i.e., they contain both male and female parts. Plants flower in mid-June and set seed in July. As for other lupine species, the seed is probably dispersed short distances as the seed pods twist open. Blue Grouse may help disperse the seeds of Prairie Lupine in Canada, but this hypothesis has not been confirmed. After their dispersal, the seeds can persist in the soil, where they form seed banks. Because the seeds are covered with a hard seed coat, germination may take several months or even several years. The seeds of Prairie Lupine may require scarification, i.e., breaking the seed coat via abrasion, digestion or fire, in order to stimulate germination, as is the case in many lupine species. Prairie Lupine does not appear to reproduce vegetatively. Its roots have small nodules containing bacteria that help the plant fix atmospheric nitrogen, allowing it to grow in poor, dry soil in which few other species survive. Prairie Lupine appears to be short-lived, with a maximum age of about five years.
Threats
Habitat destruction has been and continues to pose the most significant threat to Prairie Lupine. Two populations were destroyed around 1994. The Somenos Lake population was destroyed during the construction of a sewer line adjacent to the site. The Beacon Hill population, although nominally protected within a municipal park, was finally destroyed during removal of posts next to the roadbank where the plants occurred. The historic populations in Langford Plains and the Oak Bay District have almost certainly been destroyed by residential and commercial development. The Mount Helmcken population is on private land and the future plans for the property are unknown. Habitat degradation by the invasion of exotic species is a persistent threat to this species. Prairie Lupine appears to be highly sensitive to competition. Although fire suppression may have increased competition from woody shrubs for historic populations, fires pose a serious threat to extant populations because a large number of opportunistic plant species can quickly colonize habitat recently disturbed by fire. Recreational activities also threaten Prairie Lupine. Trampling can damage plants and can also cause soil disturbance, which could create suitable conditions for the establishment of other plant species to the detriment of Prairie Lupine. Finally, due to their small size, extant populations are threatened by random events, which could quickly result in their extirpation.
Protection
Federal Protection
The Prairie Lupine is protected under the federal
Species at Risk Act
(SARA). More information about SARA, including how it protects individual species, is available in the
Species at Risk Act: A Guide
.
Prairie Lupine is not protected under any provincial legislation in British Columbia.
Provincial and Territorial Protection
To know if this species is protected by provincial or territorial laws, consult the provinces' and territories' websites.
Recovery Initiatives
Status of Recovery Planning
Recovery Strategies :
Name Recovery Strategy for Multi-Species at Risk in Maritime Meadows associated with Garry Oak Ecosystems in Canada
Status Final posting on SAR registry
Recovery Team
Garry Oak Ecosystems Recovery Team
Conan Webb - Chair/Contact - Parks Canada
Phone: 250-478-5153 Send Email
Documents
PLEASE NOTE: Not all COSEWIC reports are currently available on the SARA Public Registry. Most of the reports not yet available are status reports for species assessed by COSEWIC prior to May 2002. Other COSEWIC reports not yet available may include those species assessed as Extinct, Data Deficient or Not at Risk. In the meantime, they are available on request from the COSEWIC Secretariat.
6 record(s) found.
COSEWIC Status Reports
COSEWIC Assessment and Update Status Report on the Prairie Lupine Lupinus lepidus in Canada (2009)

Prairie Lupine (Lupinus lepidus) is a perennial herb that grows 20-45 cm tall. It has leaves divided into lobes from a central point. These compound leaves grow from the base of the plant with a few alternate leaves also found along the stem. The leaves and stems are covered with silky hairs, giving the plants a distinctive appearance. The pea-like flowers range in colour from blue, white to purple and are arranged in a compact terminal inflorescence. The seedpods are also hairy and contain 2-4 brown seeds. Most taxonomists recognize only a single variety of Prairie Lupine in Canada.
COSEWIC Assessments
Response Statements
Recovery Strategies
Recovery Strategy for Multi-Species at Risk in Maritime Meadows associated with Garry Oak Ecosystems in Canada (2016)

This strategy has been developed to address the recovery of seven plant and two butterfly species and their associated habitats. These species are all characterized by one or more of the following: total population decline, small distributions with decline or fluctuation, loss of habitat, declining small population sizes or very small populations or restricted distribution (COSEWIC 2003b). Unless recovery actions are initiated, these species may become extinct or extirpated from Canada.
Orders
COSEWIC Annual Reports
COSEWIC Annual Report - 2009 (2009)

2009 Annual Report to the The Minister of the Environment and the Canadian Endangered Species Conservation Council (CESCC) from the Committee on the Status of Endangered Wildlife in Canada.
Date modified: