Species Profile
Bearded Owl-clover
Scientific Name: Triphysaria versicolor
Other/Previous Names: Triphysaria versicolor ssp. versicolor
Taxonomy Group: Vascular Plants
Range: British Columbia
Last COSEWIC Assessment: November 2011
Last COSEWIC Designation: Endangered
SARA Status: Schedule 1, Endangered
---
Quick Links: | Photo | Description | Distribution and Population | Habitat | Biology | Threats | Protection | Recovery Initiatives | Recovery Team | National Recovery Program | Documents
Image of Bearded Owl-clover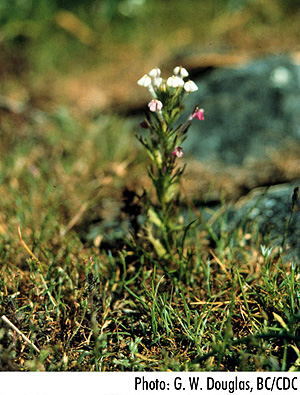 Description
This plant belongs to the Figwort (Scrophulariaceae) family. The Bearded Owl-clover can reach heights of 10 to 50 cm and the stems are covered with tiny hairs. The leaves are 2 to 8 cm long, alternate, and pinnately divided (leaflets arranged on opposite sides of an elongated axis). The flowers are white or pink, club-shaped, and aggregate to form a floral spike at the top of the stem. The floral parts are dotted with purple.
Distribution and Population
Globally, the Bearded Owl-clover occurs from Southern Oregon to Northern California and into southeastern Vancouver Island, British Columbia. In Canada, this species is restricted to the Victoria area along the ocean from Harling Point, the most westerly site, to Glencoe Cove in Gordon Head at its most northeasterly extension. Populations of this species cover about 22 km of coastline. There are eight known populations of the Bearded Owl-clover in six sites in the Victoria area. Each population ranges in size from just a few individuals to a thousand. No long-term studies on the population dynamics of this species have been conducted and consequently, there is no available data on population trends.
Habitat
The Bearded Owl-clover can be found growing on rocky shorelines in the Victoria area, on exposed points or in small coves. Southeastern Vancouver Island is in a rainshadow belt created by the Olympic Mountains to the South which is responsible for the warm and dry climate in this area. Other species that grow in these same conditions are Coastal Douglas-fir and Garry Oak savanna vegetation. The Bearded Owl-clover generally grows in open sites or areas with a heavy shrub layer of Broom (Cystisus scoparius) and Gorse (Ulex europaeus).
Biology
The Bearded Owl-clover is an annual plant which appears in early spring in British Columbia. The seeds of this species germinate in spring pools and flowering begins by mid-April. Reproduction is through out-crossing and it is thought that the Bearded Owl-clover is pollinated by bees although, specific pollinators for the subpopulation in British Columbia are not known. The Bearded Owl-clover parasitizes the roots of other plants which grow in mixed-species communities. The hosts with which the Bearded Owl-clover is associated are unknown.
Threats
The Bearded Owl-clover is at the northernmost limit of its range. The species requires very specific habitat conditions that occur in a restricted area in the Victoria area. Providing that climatic conditions remain stable on southern Vancouver Island, the main factors threatening this species in Canada are the lack of protection in city parks, development of waterfront areas on private property, and competition from introduced plants.
Protection
Federal Protection
The Bearded Owl-clover is protected under the federal
Species at Risk Act
(SARA). More information about SARA, including how it protects individual species, is available in the
Species at Risk Act: A Guide
.
Provincial and Territorial Protection
To know if this species is protected by provincial or territorial laws, consult the provinces' and territories' websites.
Recovery Initiatives
Status of Recovery Planning
Recovery Strategies :
Name Recovery Strategy for Multi-Species at Risk in Maritime Meadows associated with Garry Oak Ecosystems in Canada
Status Final posting on SAR registry
Recovery Team
Garry Oak Ecosystems Recovery Team
Conan Webb - Chair/Contact - Parks Canada
Phone: 250-478-5153 Send Email
Documents
PLEASE NOTE: Not all COSEWIC reports are currently available on the SARA Public Registry. Most of the reports not yet available are status reports for species assessed by COSEWIC prior to May 2002. Other COSEWIC reports not yet available may include those species assessed as Extinct, Data Deficient or Not at Risk. In the meantime, they are available on request from the COSEWIC Secretariat.
5 record(s) found.
COSEWIC Status Reports
Response Statements
Recovery Strategies
Recovery Strategy for Multi-Species at Risk in Maritime Meadows associated with Garry Oak Ecosystems in Canada (2016)

This strategy has been developed to address the recovery of seven plant and two butterfly species and their associated habitats. These species are all characterized by one or more of the following: total population decline, small distributions with decline or fluctuation, loss of habitat, declining small population sizes or very small populations or restricted distribution (COSEWIC 2003b). Unless recovery actions are initiated, these species may become extinct or extirpated from Canada.
COSEWIC Annual Reports
Consultation Documents
Consultation on Amending the List of Species under the Species at Risk Act: Terrestrial Species – December 2012 (2013)

As part of its strategy for protecting wildlife species at risk, the Government of Canada proclaimed the Species at Risk Act (SARA) on June 5, 2003. Attached to the Act is Schedule 1, the list of the species that receive protection under SARA, also called the List of Wildlife Species at Risk. Please submit your comments by March 4, 2013, for terrestrial species undergoing normal consultations and by October 4, 2013, for terrestrial species undergoing extended consultations. Consultation paths.
Date modified: