Species Profile
Floccose Tansy
Scientific Name: Tanacetum huronense var. floccosum
Taxonomy Group: Vascular Plants
Range: Saskatchewan
Last COSEWIC Assessment: May 2000
Last COSEWIC Designation: Special Concern
SARA Status: Schedule 1, Special Concern
---
Quick Links: | Photo | Description | Distribution and Population | Habitat | Biology | Threats | Protection | National Recovery Program | Documents
Image of Floccose Tansy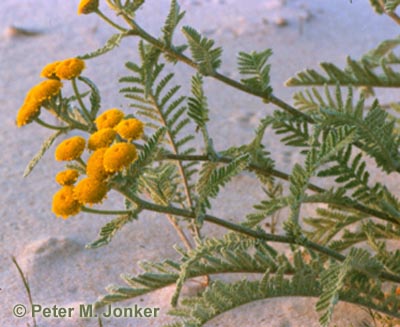 Description
The Floccose Tansy is a stout perennial plant that grows from 20 to 40 cm high from a rhizome with an extensively branched root system. The plant has elongated and finely dissected basal leaves and alternate leaves along the stems. Like the stems, these are covered by densely matted, woolly hairs. The typical composite flower heads have yellow rays and are arranged in loose clusters at the end of the upwardly branching stems.
Distribution and Population
Floccose Tansy is endemic to (found only in) the Athabasca Sand Dunes of northwestern Saskatchewan. It is one of the most frequently encountered plants on the dunes and occurs as individuals, or more often as small clonal clusters varying from several to more than a dozen plants, scattered throughout the dune fields. Although no studies have been done on population size and trends, the population is believed to be stable.
Habitat
Floccose Tansy occurs on open, active sand dunes, primarily on dune crests, leeward slope ridges, moister hollows, advancing dune edges and the slacks between dunes. It can also be found on the broad sandy beaches and beach terraces along the lake shore.
Biology
Floccose tansy blooms from mid July to the end of August. Like other species of tansy, this one must likely be cross pollinated by insects and reproduces from seeds as well as vegetatively by means of horizontal rhizomes to produce clonal colonies. Some seeds mature by late August but many remain on the dried plants over the winter. Little is known about seed dispersal, fertility and germination, but seed germination and seedling growth has been observed in moist depressions, at the bases of leeward dune slopes, and in dune slacks. The plants are dependent on the continuing natural disturbance of actively shifting sand dunes. They are a colonizing species that helps bind the shifting sands and hold them in place, but whenever the vegetation density increases and dunes become semi-stabilized by a local predominance of shrubs, the tansy becomes reduced in numbers and eventually disappears.
Threats
Although the dunes occur in a remote area, threats to the tansy from potential increased public accessibility to the dune fields include trampling and habitat disturbance by sight-seekers, eco-tourists, and various forms of recreational use of the dunes (e.g., dune buggies, motorcycles).
Protection
Federal Protection
More information about SARA, including how it protects individual species, is available in the
Species at Risk Act: A Guide
.
The entire range of the Floccose Tansy is contained within Athabasca Sand Dunes Provincial Wilderness Park.
Provincial and Territorial Protection
To know if this species is protected by provincial or territorial laws, consult the provinces' and territories' websites.
Documents
PLEASE NOTE: Not all COSEWIC reports are currently available on the SARA Public Registry. Most of the reports not yet available are status reports for species assessed by COSEWIC prior to May 2002. Other COSEWIC reports not yet available may include those species assessed as Extinct, Data Deficient or Not at Risk. In the meantime, they are available on request from the COSEWIC Secretariat.
1 record(s) found.
Management Plans
Management Plan for Multiple Species of the Athabasca Sand Dunes in Canada (2013)

This management plan addresses a group of seven plants which are listed as species of special concern under the Species at Risk Act (SARA), and which are found in the Athabasca Sand Dunes of northern Saskatchewan: Large-headed Woolly Yarrow, Athabasca Thrift, Mackenzie Hairgrass, Sand-dune Short-capsuled Willow, Felt-leaf Willow, Turnor's Willow, and Floccose Tansy. The Athabasca Sand Dunes is a complex of active and stabilized dunes on the south shore of Lake Athabasca, in the 1925 km² Athabasca Sand Dunes Provincial Park which is located in the northwest corner of Saskatchewan. These plants are endemic (i.e. found nowhere else) to the dune complex, with the exception of one reported location of Felt-leaf Willow in Nunavut, one reported location of Mackenzie Hairgrass in the Northwest Territories (both under review), and a few observations near to the dunes on the shores of Lake Athabasca.
Date modified: